The Machine for Innovation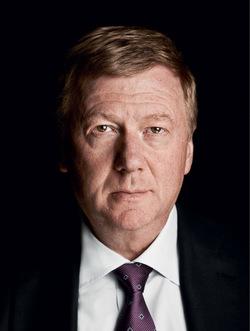 Talking about the achievements of the Russian nanoindustry, the head of RUSNANO, Anatoly Chubais, likes to build his speech around the formula 'previously there was no, but now there is'. He claims that the industry has met the expectations, and RUSNANO itself has been turned into a self-financing tool for the reproduction of innovations, capable of doubling the number of new high-tech enterprises about once every 10 years.
Innovation as a concept came into widespread Russian life thanks to Dmitry Medvedev around 2007-2008. This is no coincidence and follows from the logic of economic development in post-Soviet Russia. In my life, this word had appeared long before but its meaning significantly transformed over time.
Before joining RUSNANO, I knew there were two worlds: science and production. In other words the world of science and the world of classical economy. In Soviet times, the task was to try to somehow transfer the achievements from science over the 'fence' into production, which is traditionally not very susceptible to innovations. This conception was partly formed by my original profession: I spent about 10 years of my life at the Leningrad Engineering and Economic Institute, professionally engaged in R&D economics for a significant part of my life. It was at RUSNANO that I was surprised to learn about the existence of a third world: an innovative economy.
It turned out – and it came as a great revelation to me – that it is a huge, complex world. It has its own sophisticated legal framework, its own organizational and legal forms and activities, its own unique and holistic financing system, staff training, and so on. Moreover, this world differs fundamentally in various industries: the innovative economy in engineering, pharmaceuticals or electronics – these are several different types of innovative economies with strong distinctions.
In other words, in terms of complexity, this is a completely separate world. But there is one important condition: its formation requires a normal market economy. Therefore, it would have been impossible to build a new Russian innovative economy on a Soviet foundation, despite the fact that the USSR really had its own specific innovative economy. Moreover, it had one most important advantage: the ability to work effectively to the benefit of state order. If it was necessary to undertake something as colossal as an atomic bomb or space exploration, it could cope with such tasks. However, it also had a major drawback: under no circumstances was such an economy able to work to the benefit of a private consumer – that is, a person.
By the early 1990s, it became clear that this Soviet innovation system could not exist in a market economy. In particular, it could not transform into a modern innovative economy aimed at a consumer. Therefore we had to successively go through all the stages. It took 10 years to create a market in Russia - this task was accomplished, giving the country almost a decade of strong growth during the first years of the 21st century with a doubling of the economy and a doubling of standards of living. And by 2006-2008, the country was mature enough to begin building an innovative economy – from scratch, on a completely new economic basis.
The practical implementation of the concept of innovative development required an appropriate institutional environment – new institutions for innovative development. It is no secret that they were not created as part of any holistic, approved plan but, rather, in a manual mode and sporadically. And in this sense, they all turned out different. For instance, Skolkovo initially focused on supporting a wide range of innovations at relatively early stages. The Russian venture company was focused on the venture industry itself. RUSNANO received a clear mandate: we were created to build the nanoindustry in Russia.
For example, renewable energy is the case when the state-guided development of the industry is not only useful but also simply necessary. As you know, this sector has been actively developing all over the world over the past 15 to 20 years. It is also well known that in all countries without significant exceptions, there is no economic payback here; the sector requires (and receives in one form or another) subsidies and state support. At the same time, in recent years there has been a multifold reduction of costs and price of the final product. The year 2015 saw a historic event: the volume of new renewable energy commissioning in the world exceeded the volume of launches of traditional energy capacities. This means that, in the future, the share of renewable energy in the overall energy balance will be increasing, while that of the traditional one will be decreasing. This is a qualitative shift.
In such a situation, any country faces a dilemma: to start investing in a sector that does not pay back yet but that has already proved its viability and prospects, and to create a support system for it, or to postpone this decision and wait.
Russia dealt with this dilemma in 2013, when we began to create a full-scale renewable energy cluster, which includes not only the eco-friendly power generating facilities themselves but also industrial enterprises for the production of renewable energy equipment, research and development in this area, as well as a staff training system. If there had not been a conscious decision by the state to take measures to support and develop renewable energy, this cluster would not exist. It means that a whole set of competencies would not have appeared that the country simply did not have before. If we delayed those decisions for another two to three years, then in the foreseeable future Russia would become a large-scale importer of technologies, products, knowledge and competencies in the field of renewable energy. We would lag behind not for a year or two, but for 30 to 40 years, if not forever.
In such cases, it is impossible to promote such large-scale initiatives without government decisions. Unfortunately, there are contrary examples when the government tries to determine technological priorities, but nothing good happens. There is no total insurance here. The price of error can be large, but the price of inaction can be enormous.
THE BIRTH OF 'NANO'
The bet on the development of nanotechnology and the creation of RUSNANO in 2007 is another example of the state's correct strategic decision-making. This idea belongs to the president of the Kurchatov Institute, Mikhail Kovalchuk, who for a long time held the position of scientific secretary of the Presidential Council for Science, Technology and Education. He was the first to propose building a new industry on a 'nano' scale, which would open up the possibility of creating products with fundamentally new properties that could find application in dozens of industries – from mechanical engineering and materials to electronics, photonics, and pharmaceutics. He succeeded in convincing the government to allocate 130 billion rubles, a sum that was to be managed by the State Corporation Rusnanotech, and, later on, – by RUSNANO.
It was important not to let those funds be spent on branches of science but on the creation of the nanoindustry instead. Of course, we had to overcome certain difficulties at the beginning of the journey. For example, the scientists, who we invited to join in our work, were familiar with nanotechnology as a whole; it was understandable for them. I cannot say the same for myself.
It took me some time and effort to understand what nanotechnology is. Right after I started work in 2008, the corporation's entire management of the team and I diligently attended a one-year training course on nanotechnology. Led by the academician Yuri Tretyakov from the Faculty of Materials Science at Moscow State University, it helped me dive into the context and figure out the details.
It was no less difficult to deal with such a legal form as 'state corporation'. This process lasted for several years and was divided into several stages. Let me remind you that, at the end of 2007, there was a law adopted on state corporations, as a result, this strange organizational and legal phenomenon was born, and Rusnanotech became one of the first state corporations. However, having started the real work, we quickly realized that this form did not suit us. The fact is that the company's activities were quite clearly divided into two main components. On the one hand, it was investing in high-tech projects, and on the other, a whole set of infrastructure functions, – from standardization to the development of educational programs and the popularization of nanotechnology. The mixture of those two types of activities increased costs, reduced transparency and efficiency, and created a number of other problems.
That is why, in 2011, a decision was made to reformat the state corporation, dividing into two parts: RUSNANO JSC, which became responsible for the business area and the Fund for Infrastructure and Educational Programs, which took upon itself the solution of related tasks.
Life has confirmed the absolute correctness of this decision. However, later on, observing how tasks similar to ours are being solved in the world, we have come to the conclusion that a new reorganization is necessary. The thing is that for more than 20 years the world has had a completely separate sphere – private equity and venture capital (PE/VC) – the industry of private investment and venture capital. It has its own organizational and legal forms that are fundamentally different from ordinary joint-stock companies but at the same time best suit our tasks.

PE/VC À LA RUSSE
One of the most important distinctive features of the PE/VC sector is a clear separation of the functions of ownership and asset management, which the investors referred to as limited partners (LP) and the management company – general partners (GP). These are two fundamentally different cultures, two different institutions within the venture capital industry. I have to admit that, in the beginning, I did not understand the importance of this difference. Therefore, when answering the question: "What is RUSNANO: LP or GP?", I answered that we are both at the same time. After such an answer, people would shake my hand, wish me all the best, and politely say goodbye. It was clear to them that there was nothing to talk about with a person like that.
This gave us good food for thought: it was impossible to imagine that everyone around us was a fool. Gradually we came to the conclusion that another reorganization was necessary. Its aim was to transform RUSNANO into an institution that would be adequate and understandable to the PE/VC industry while preserving the very design of the joint-stock company. Otherwise, we could have said goodbye to our main goal: to be able to attract outside investors to our projects.
And an easy way to do so was invented. In accordance with the law 'On Joint-Stock Companies' (which we ourselves wrote all the way back in the 1990s), JSCs have a sole executive body, the function of which can be performed by individuals or legal entities. It was decided to create a management company (MC), that would take over the asset management function, and to make it the sole executive body in RUSNANO, which owned the assets.
It turned out to be more difficult to implement than to draw this scheme on a sheet of paper. However, as a result, we immediately received a whole list of strategic properties of a new quality.
First of all, we became understandable to the investors of the PE/VC market. The mechanism for attracting investment to RUSNANO projects became simple and transparent. We got an opportunity to address to investors – to those very LPs – literally like this: "Dear friends, RUSNANO JSC is ready to invest a certain amount in a new fund. You can add some bankroll of your own to it. The RUSNANO management team has successful experience in managing such projects, and we are ready to tackle it."
This is exactly what a scheme of a standard private equity fund or a venture fund looks like. However, in order for this scheme to work fully in Russia, something else had to be done. So, before that, there was no legislation in Russia for such structures: it was not a joint-stock company, not a closed mutual investment fund, and not a limited liability company. It was something new. And this new entity had to be made legal. For that reason, we created a new law 'On Investment Partnership'. In fact, it translates the construction of private equity and venture capital funds into the Russian language. In Russia today, there have already been more than 50 investment partnerships created in accordance with the Russian law.
Gradually, with these organizational and legal changes, we began to transform the principle of RUSNANO's work. The company ceased to finance projects directly. Instead, new funds are created under the management of RUSNANO Management Company, and external investors are attracted to RUSNANO as an anchor investor. And these new nanotechnology funds are being invested in the projects. It was a cardinal change. We started to speak with PE/VC in Russian, and we understood each other well. Things got on the right track.

INVEST, RETURN, WITHDRAW
It would be childish to expect that after the reorganization was completed wealthy investors from around the world would immediately bombard us with requests to take their money into management. Step by step we began to move forward. At first, the goal was to raise funds in projects based on the 1:1 ratio of RUSNANO's and third party's investments. We wanted to attract one ruble from investors for every one of our rubles. In the future, the ratio was supposed to grow – to 1:3, 1:5, 1:10, and so on.
The Wind Energy Development Fund created jointly with the Finnish company Fortum on equal terms was among the first. The total size of the fund is 30 billion rubles; partners invested by 15 billion rubles each, and another 70 billion rubles was raised as a loan. In January 2018, the Fund's first wind farm with a capacity of 35 megawatts was put into operation in the Ulyanovsk region. I would like to emphasize that about 65% of the equipment used here is localized and produced at Russian enterprises. In total, following the results of competitive procedures, the Fund received the right to build almost two gigawatts of wind power plants until 2023. In fact, we are creating the Russian wind generation, an industry that did not exist here before. Another example: in early 2019, we signed an agreement to create a joint fund of 20 billion rubles, which will be invested in the development of nuclear medicine centers. Within this fund, the proportion of invested funds is already 1:3; that is, RUSNANO will get 15 billion rubles from a private investor for five billion rubles of its own money.
A completely logical question is: what can RUSNANO offer to the investors, what added value can we create for them? We offer two things. First, our experience in managing complex projects in Russia. For instance, what does Fortum – one of the major energy companies in Europe – need us for? We explained that not only do we understand something in the energy sector, but we also know how to build plants in Russia. Fortum considered it an important competency, taking into account the requirements put forward by the government to localize the equipment of wind farms being built in Russia.
What did a private investor need us for to build nuclear medicine centers? Back in 2011, RUSNANO JSC participated in the foundation of PET Technologies. This company built a network of 11 nuclear medicine centers for early diagnosis and treatment of cancer, as well as two sites for the production of radiopharmaceuticals.
In the beginning, almost no one believed that the project would be able to get all the licenses, or to find and train the required number of specialists. However, in 2018, RUSNANO successfully completed the project, made in profitable and withdrew from PET Technologies after selling its 49.9%.
There is yet another of RUSNANO's competencies worth mentioning: when we invest in portfolio companies or funds, we also provide them with protection – from bureaucracy, corruption, and gang raids.
An obligatory final step is withdrawal. This is the essence of RUSNANO's business model, its fundamental economic property that sets us apart from other state corporations. This is the function of a development institution if you want. 'Development' is the keyword here. We choose a project, structure it, invest in it, build a plant, bring it to self-sufficiency, begin to gain profit and then sell our share. That is why, for example, RUSNANO almost always acts as a minority and not a controlling shareholder. As a rule, we need a private strategist who understands the project in the industry that he works in, and is interested in it strategically. We do not replace private business but support it.
THE FIRST UNICORN
Single-wall carbon nanotubes – a product that can revolutionize dozens of industries – from automotive to construction. Having started to master this topic, we realized that there are two groups of breakthrough properties that can be ensured by the application of nanotubes. One lies in the field of mechanics: the addition of nanotubes to various materials (glass, rubber, or concrete), capable of drastically improving their strength characteristics. The second one relates to the field of electrics: nanotubes make conductive those materials that do not originally have this property.
To master the industrial production of single-wall carbon nanotubes at an affordable price is a task that the world is actively working on, but Russia is the country that has most succeeded in it. In 2015, our production of nanotubes amounted to only two tons; in 2016, to four tons; in 2017, to eight tons; and in 2018, to 10 tons. In 2019, we will produce about 20 tons. It will all be done in Novosibirsk at the facilities of RUSNANO's OCSiAl portfolio company, which today controls more than 95% of the global market.
The first industrial plant for the production of nanotubes with a capacity of 10 tons per year was launched in 2015. Recently, another one joined it – with a capacity of 50 tons, which so far is working in test mode. There are plans to build another five.
In early 2019, RUSNANO sold 0.5% of OSCiAl to A&NN investment group of a Russian entrepreneur Alexander Mamut for $5 million. Thus, the deal was made based on OSCiAL's market valuation of $1 billion. This means that OSCiAl became the first unicorn in RUSNANO's portfolio.
OSCiAl sells 100% of its nanotubes, sending more than 90% of its output for export. The company worked with 75 out of 100 world's major technology corporations. Unfortunately, Russian companies buy no more than seven to eight percent of the produced volume, despite RUSNANO's tremendous promotion efforts on the domestic market.
We have done a lot to start pushing this product in Russia. In particular, thanks to joint efforts with the government of Tatarstan, headed by President Rustam Minnikhanov, it became possible to interest the enterprises from the oil and petrochemical complex of Tatarstan in using nanotubes. Last year, the innovative production of glass bottles was launched at the Siberian Glass company in the Ekran industrial park in Novosibirsk. The use of nanotubes in glass production technology has led to a reduction of weight of the final product and its volumes and reduced the broken glass to almost zero, which with traditional technology reaches ­‑10-12%.
Now individual Russian producers of mining equipment and coal mining companies show interest in nanotubes. We hope this is just the beginning.
In the near future, the scope of nanotubes application will expand to tens and even hundreds of industries. Today, Russia is already a global leader in the production of this material, about four to five years ahead of the rest of the world. The development of this direction should lead to the emergence in our country of a new cluster and even a system of adjacent clusters that do not exist yet.
RUSNANO'S DECADE
At the beginning of 2019, we summed up the work of RUSNANO for the first decade of the company's work. I will put it short: we were founded in 2007 to form nanoindustry in Russian. This task has been fulfilled. The annual sales volume of nanoindustry products by enterprises created with RUSNANO's participation today has exceeded 400 billion rubles, about 70 billion rubles of which comes from exports.
During this time, we have built over 100 enterprises. They have become the base for six technological clusters, most of which did not exist before – nanoelectronics and photonics, coatings and surface modification, new materials, innovative nanopharmaceuticals, nuclear medicine, and solar and wind energy. We have created the foundation for new clusters including industrial storage of electricity, processing of solid household waste into electricity, flexible electronics, and nanomodified materials.
Inside this array, there are things that seem absolutely breakthrough to me. In a social sense, these are the already mentioned centers for nuclear diagnostics, which have already provided services to more than 100,000 Russian citizens across the country. There are important results in terms of business as well. A good example is the emerging wind energy cluster. We are number one in this market.
This story has another layer. As stated above, the RUSNANO business model involves an obligatory withdrawal from the investment. We return the invested money with a profit. By all estimates, the value of RUSNANO's portfolio today exceeds the volume of all costs. The company is not super profitable, but the average value of the IRR indicator to the fair value at the end of 2013 (FV-2013) for 50 projects from which we had already withdrawn, exceeded 16%. It means that we will also be able to invest the money received in the next 10 years in new projects and, even without increasing our own efficiency, we will be able to build another 100 enterprises. Thus, we can say that RUSNANO has created a machine in which the state invested once at its launch, and which in the future every 10 years will be able to create hundreds of new enterprises without any new infusions from the budget. This is a self-reproducing, self-financing investment mechanism. And this machine is unstoppable. It will definitely continue to work.