A Gateway to space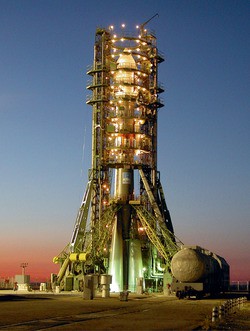 Futurologists predict that space flight will become as common in the 21st century as air travel was in the 1920s and 1930s, which is why spaceports are being built across the planet at an accelerated pace. The first of these launch centers were constructed in the 1950s; now there are nearly thirty of them around the world, though not all of them are operational. Among these 'gateways to space,' the BRICS countries have many they can call their own.
RUSSIA
Baikonur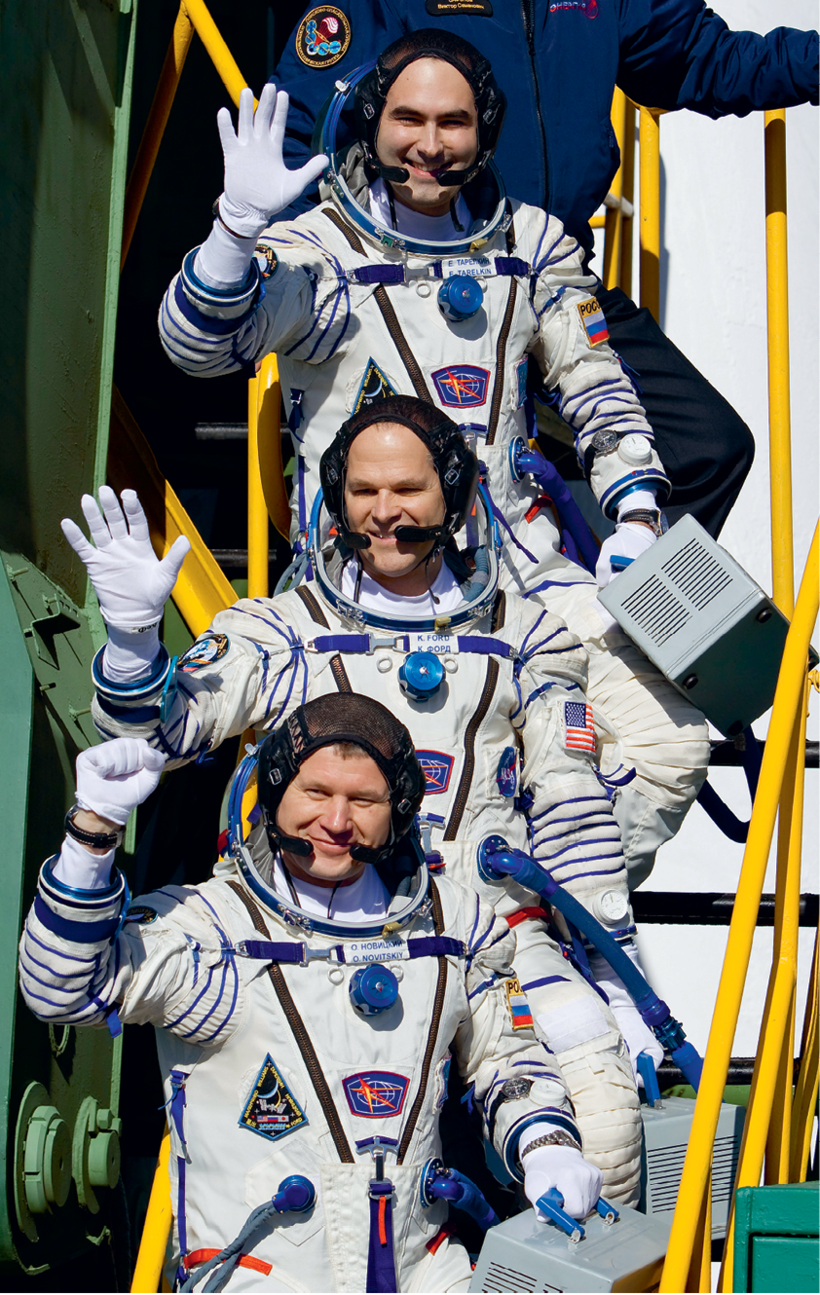 The ISS crew members: US astronaut Kevin Ford (center), Russian cosmonauts Oleg Novitskiy (bottom) and Evgeny Tarelkin (top)
Of all the former Soviet launch sites, Baikonur is the most well-known due to its status as the largest launch facility in the world. This famous cosmodrome was built in the Kazakh Steppe near the village of Tyuratam, but may have been named after the mining town of Baikonur to the northeast to mislead potential adversaries. Construction began in 1955, and the first successful launch took place in 1957. It was from Baikonur that Earth's first cosmonaut Yuri Gagarin was sent into space, and it was subsequently the base of all Soviet and Russian manned space missions. In recent years, however, Moscow has been gradually scaling down its presence in Baikonur, which is located in present-day Kazakhstan. Russia is widely expected to relocate its main space center to Amur Oblast's Vostochny Cosmodrome, a planned spaceport that is currently under construction.
Kapustin Yar
This first Soviet rocket test site was built in Astrakhan Oblast in 1946 to test Soviet ballistic missiles.
Yasny
This launch site, located in Orenburg Oblast, saw its first launch in 2006. The facility currently services Dnepr rockets, jointly developed by Russia and Ukraine based on RS-20 intercontinental ballistic missiles (called the SS-18 Satan by NATO). Using these rockets to put civilian satellites into orbit is considered to be one way of reducing ICBMs under the START-1 treaty.
Svobodny
This government test site, used by the Ministry of Defence of the Russian Federation, was built in Amur Oblast. The first launch took place in 1997, but the site is currently out of commission.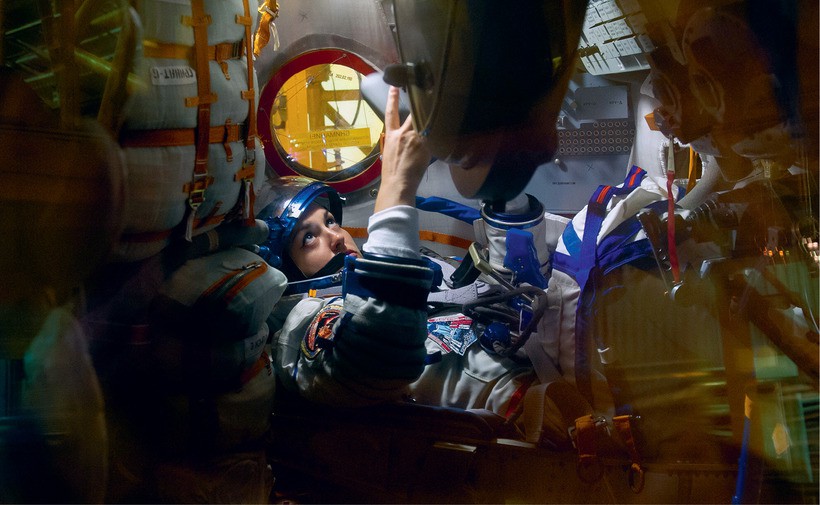 Russian cosmonaut Elena Serova attends preflight training in the Baikonur cosmodrome
Plesetsk
This rocket test site, built in Arkhangelsk Oblast, is considered to be the northernmost launch center in the world. Construction began in 1957, and the facility was converted into a full-fledged launch site in 1966 with the launch of the Kosmos 112 satellite. Plesetsk is currently used for testing rocket equipment and launching multi-purpose satellites into space.
Vostochny
Russia currently has plans in place to build a cosmodrome in Amur Oblast near the village of Uglegorsk. The facility is slated to have several launch pads, some of which will be capable of accommodating heavy Angara-5 booster rockets. Vostochny will be ready to launch its first unmanned missions as early as a few years from now, and may eventually become Russia's main launch site.
BRAZIL
Alcântara Launch Center
This facility offers one major advantage – it is located close to the equator, making it easier for spacecraft to reach geostationary orbit. The construction of this Brazilian launch site began in 1982 and took eight years to complete. The first rocket launch took place in 1990 when a Brazilian Sonda 2 was sent into space. Soon thereafter, the site was also used to launch research and meteorological spacecraft made in Canada and the Unites States as well as Brazilian-made booster rockets. The Center has had setbacks though – in 2003, a Brazilian VLS-1 booster rocket prototype exploded on the launch pad, killing 21 people. In the future, Brazil plans to make this location available as a launch site for foreign-made booster rockets. In particular, Ukrainian-made Cyclones and Israeli-made Shavits are likely to be launched from Alcântara. Negotiations are also underway to use this site for Russian-made Protons as well as Chinese rockets.
INDIA
Sriharikota
This site, officially known as the Satish Dhawan Space Centre, is located on Sriharikota Island in the Bay of Bengal. One of this launch site's greatest advantages is its proximity to the equator. It was from here that the Chandrayaan-1 automatic station was sent to the moon in 2008, and the Mangalyaan spacecraft embarked upon its voyage to Mars in 2013. The first Indian astronauts are expected to be put into orbit from this center as well.
CHINA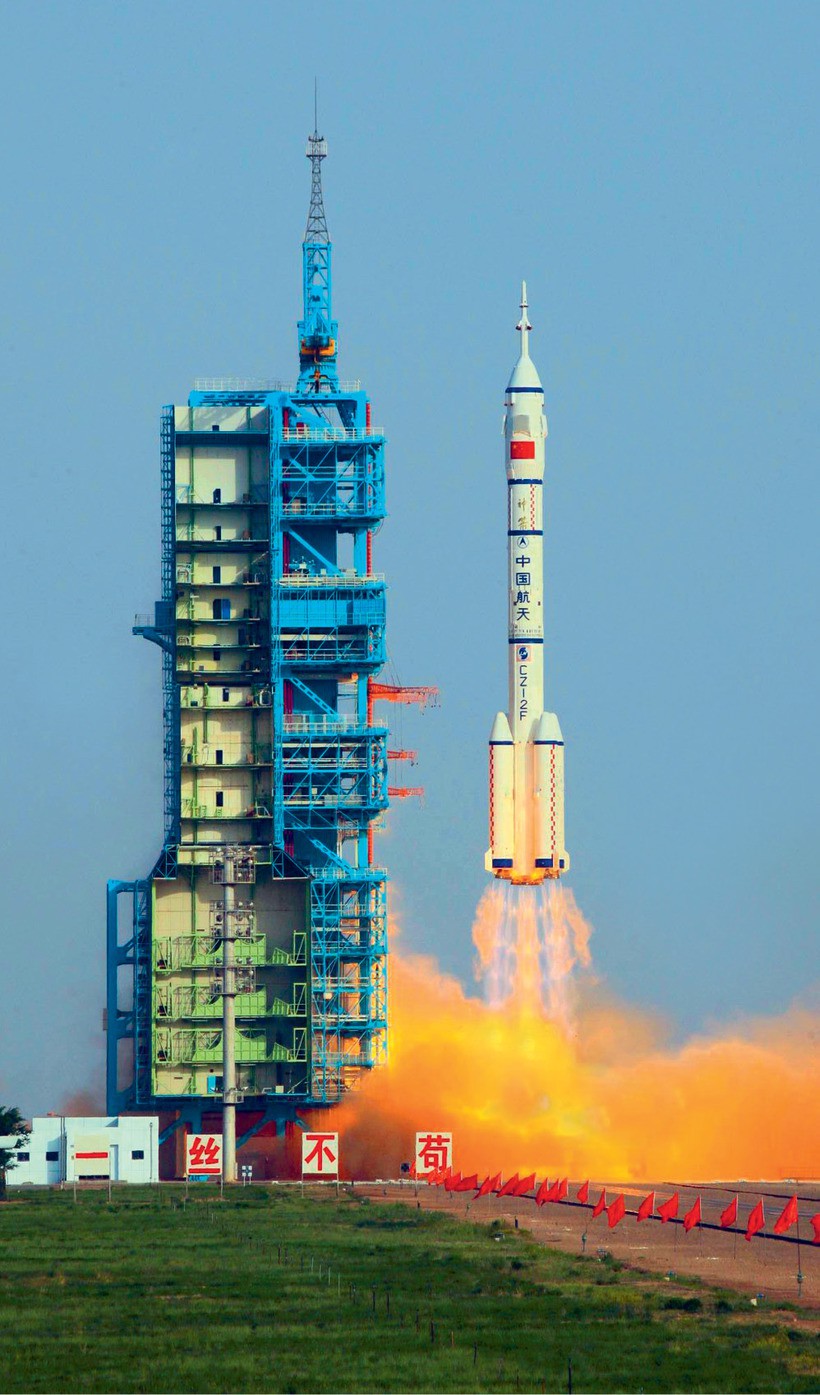 Jiuquan Satellite Launch Center
Wenchang
This spaceport is currently under construction on the island of Hainan in the South China Sea. What makes this site unique is its proximity to the equator and the convenient location of nearby bays, which makes it easier to deliver booster rockets by ship directly from the manufacturer. It may eventually become China's main launch site for manned missions.
Xichang
The construction of this space center in the Sichuan province began back in 1967. Initially, progress was slow, as construction was interrupted by the Cultural Revolution. The site was finally commissioned in 1984 is today used to launch commercial satellites.
Taiyuan
This spaceport, located in the Shanxi province, was built in the late 1960s. In the early stages, it served as a major missile base for the Chinese armed forces. The first space launch took place here in 1988. Currently, the site is used to launch meteorological and research satellites.
Jiuquan
This satellite launch center, located in a desert area in the Gansu province, is often referred to as the Chinese Baikonur. It is the best-known spaceport in the People's Republic. The facility was built under Mao's orders in the late 1950s and designed for military purposes. It has been the launch site of all Chinese manned missions, and will remain so until the Wenchang Satellite Launch Center becomes fully operational.